ICT & The FUTURE OF INTERNET Opportunities for Stimulating & Reshaping the Economy
SPEAKERS PROGRAM GLOBAL FORUM 2009
DAY 1 MONDAY 19 OCTOBER 2009
Morning Sessions
WELCOMING ADDRESSES OPENING SESSION 9:00 am – 10:30 am
Chaired and Moderated by : Sylviane Toporkoff, President Global Forum & Founder Partner Items International, France
Pierre Laffitte, President Sophia-Antipolis Foundation ; Honorary Senator named by the French President Nicolas Sarkozy Head of Mission in the Framework of the UPM ( Union for the Mediterranean), France
Sébastien Lévy , Vice President Global Forum / Shaping the Future, Partner Items International, France
Keynote Speeches
Traian Băsescu , President of the Republic of Romania Welcome adress
Urban Funered , Special Advisor, Ministry of Finance, Sweden Swedish EU Presidency 2009 Teaming up for the eUnion !
Commissioner Thomas J. Rosch , Federal Trade Commission -FTC-, USA
Mark Gitenstein , Ambassador, Embassy of the United States, Romania Welcoming Remarks
OPENING WORKING DAY Keynote Speeches
Gabriel Sandu , Minister, Ministry of Communications and Information Society, Romania Presentation
Yorgos Ioannidis , CEO, Romtelecom, Romania
Gerard M. Mooney , General Manager Global Government and Education, IBM, USA Government takes on expanded roles as the world moves through recession
SESSION 1 10:30 am – 12:30 pm
NEW BROADBAND AND DYNAMIC INFRASTRUCTURES FOR THE INTERNET OF THE FUTURE
Chair : Jacquelynn Ruff , Vice President, International Public Policy & Regulatory Affairs, Verizon, USA New Broadband and Dynamic Infrastructures for the Internet of the Future
Moderator : Giorgio Prister, President Major Cites of Europe, Italy
Mario Agati , Vice President Multimedia and System Integration, Ericsson South East Europe, Italy Infrastructure 2.0
Joao Da Silva , Director for Network and Communication Technologies, DG INFSO & Media, European Commission Future Internet Europe in Action
Margarete Donovang-Kuhlisch, European Government Industry Technical Leader, IBM, Germany New Broadband and Dynamic Infrastructures for the Internet of the Future
Maria Kendro , Executive Director, Communications Cooperative International -CCI -, USA Bottom Up, Community-based Solutions for Reducing the Digital Divide
Catalin Marinescu, President National Authority for Management and Regulation in Communications of Romania- ANCOM, Romania Romanian Electronic Communications Market in the context of the Economic Downturn
Brent Olson, Assistant Vice President Public Policy, AT&T, USA Broadband Opportunities and Challenges in the United States
Alin- Valdimir Stanescu , Government Affairs, Qualcomm, Belgium Maximizing The Wireless Opportunity to close the Digital Gap
DAY 1 MONDAY 19 OCTOBER 2009
Afternoon Sessions
AFTERNOON OPENING SESSION 2:00 pm – 2:45 pm
Chair : Jean-Pierre Chamoux, Professor Paris V-René Descartes University, France
Keynote Speeches
Boaz Dolev , Director e-Gov Department, Ministry of Finance, Israel Israel e-Gov Strategy
Robert Hensler, State Chancellor, State of Geneva, Switzerland
Thaima Samman , Senior Director/Associate General Counsel, Corporate Affairs/Corporate Social Responsibility, Microsoft EMEA, France IT Sector's Share in Building Local Economies
Mary Tovšak Pleterski, Principal Adviser to the Director General, DG INFSO & Media, European Commission
SESSION 2 2:45 pm – 4:45 pm
SMARTER GOVERNMENTS : "EMPOWERING CITIZENS"
Chair : Gerard M. Mooney, General Manager Global Government and Education, IBM, USA
Moderator : Hugo Kershot , Founder IS-Practice, Belgium
Danilo Oreste Broggi , Chief Executive Officer, Consip S.p.A., Italy "e-Procurement for Economy Recovery"
Christos Chrysos, Project Manager, Open Technology Services S.A , Greece Integrating the Drivers of e-Participation at Regional Level in Europe
Radu Enache , President Hewlett-Packard Romania, Romania IT make citizen's life better
Candace Johnson , President, Johnson Paradigm Ventures, France Smarter Governments : Empowering Citizens – Putting the Power into Private Entrepreneurs and Private Investors for Early Stage Innovation and Investment
Kevin Laing, Head of Finance – Systems and Controls, Newcastle Upon Tyne City Council, United-Kingdom Conditions of Transformation & Collaboration between Agencies
Jeremy Millard, Senior Consultant, Danish Technological Institute, Denmark eGovernment:from smarter governments to empowering citizens
Odisseas V. Raptis , Chief Executive Officer e-Trikala, The City of Trikala, Greece e-Democracy & e-Participation Empowering citizens
Jakob H. Rasmussen , Chairman Living Labs Global, Denmark Presentation
Alan Shark , Executive Director, Public Technology Institute -PTI- ; Assistant Professor, Rutgers University School of Public Affairs & Administration, USA How we can measure the smartness of government ; the power of citizens ?
Madeleine Siösteen Thiel , Senior Program Manager VINNOVA, Sweden & Trond Knudsen , Programme Co-ordinator Division for Innovation, Innnovation Programmes VIOS, Research Council of Norway, Norway NORIA-net Citizens´ Services- Turning public-private outside-in
Peter Sonntagbauer , Management Consulting Bundesrechenzentrum GmbH ; Public Relation-Director Project "Pan European Public Procurement Online -PEPPOL-, Austria PEPPOL
Jean-François Soupizet , Head of Unit – International Relations DG INFSO & Media, European Commission ICT for Development Access, Empowerment, Partnership
SESSION 3 2:45 pm – 4:45 pm
TRUSTWORTHY E-ID SERVICES IN A DIGITAL WORLD, THREATS AND OPPORTUNITIES
Chair : Denis Gardin , Group Vice President, Head of EADS System Design Center & EADS CyberSecurity Customer Solutions Center, EADS Defense and Security division, European Aeronautic Defence & Space Company, France Bringing Security to the Cyber world
Moderator : Michael Stankosky , Professor Systems Engineering, George Washington University, USA Knoledge Security
Jacob Arenander , Senior Product Manager, VP Securities A/S, Denmark Annual General Meetings in Cyberspace
Augustin De Miscault , Member Cyber Security Center, European Aeronautic Defence & Space Company -EADS- Defence and Security, France Presentation
Victor-Emmanuel de Sa , Partner Geneva Solutions, Switzerland Presentation
Iulian Fota , National Security Advisor to the President of Romania Presentation
Patrick Francis , Executive Expert Cyber Security, EADS Defence & Security Systems, United-KingdomFederated Identity Management as a Managed Service
Vasilis Koulolias, Executive Director, Gov2U, Greece
Franck Leyman , Manager International Relations, Federal Public Service for ICT -FEDICT-, Belgium
Vassilia Orfanou , Communication Officer, ePractice eu, European Commission The European eID Observatory on ePractice
Yves Paindaveine , ICT for Trust and Security DG INFSO & Media IST Programme, European Commission Future Internet Trust & Security
Maury D. Shenk , Managing Partner, Steptoe & Johnson, United-Kingdom Presentation
Sezen Yeşil , ICT Expert, Information and Communication Technologies Authority of Turkey -ICTA-, Turkey Presentation
SESSION 4 4:45 pm – 6:45 pm
INNOVATION & sustainable E-HEALTH
Chair / Moderator : Octavian Purcarea , WW Health Industry Solutions Manager, Microsoft EMEA, France Knowledge Driven HealthSolutions for Health
Ingrid Andersson , Senior Executive Advisor, Patient Certificate Scheme, Sweden Patient Certificate Scheme
Raed Arafat , State Secretary, Ministry of Health, Romania Emergency Medicine in Romania Using Telemedicine in Emergency Care
Paolo Balboni , Fellow European Privacy Association-EPA-, Belgium Cloud Computing for eHealth
Judith Carr , Founder and CEO, Envision Consulting LLC, USAE-Health Transformation Beyond Technology
Elinaz Mahdavy, European Affairs and Strategic Partnership Manager, Orange Healthcare, FranceFT Group Telecom contribution to the e-Health innovative services
Thomas Osburg, Director Europe Corporate Affairs, Intel Corp, Romania
Mario Po' , Executive Director, Azienda ULSS n 8 Asolo, Italy ; & Paolo Barichello , ICT Manager, Azienda ULSS Asolo, Italy Advices in the Roadmap of e-Health Projects
Philippe Scheimann , CEO, Ayala Alternative Organizational Consulting, Israel. Founder ComparSante.fr, France eHealth 2.0 Price Transparency Solution
Michèle Thonnet , Official Representative e-Health France, Responsible for European and International Partnerships and Relations, Ministry of Health, France eHealth & Health challenges & expectations
Mary Tovšak Pleterski , Principal Adviser to the Director General, DG INFSO & Media, European Commission Innovation in e-Health & Sustainibilty
SESSION 5 4:45 pm – 6:45 pm
TELECOM AND INTERNET REGULATORY CHALLENGES AND OPPORTUNITIES
Chair / Moderator : Andrew Lipman , Partner and Head of Telecom Group, Bingham McCutchen, USA
Christopher J. Boyer , Public Policy Group, AT&T, USA CT and the Future of the Internet : Regulatory Challenges – Network Neutrality
Bogdan Dospinescu, Head of Tariff Regulation and Universal Service, National Authority for Management and Regulation in Communications of Romania -ANCOM-, Romania A wide digital divide and its challenges – addressing the lack of broadband access in the rural areas of Romania
Thomas Hart , EU-China Media and Communications Policy Advisor, Hart-Consult Associate, GOPA Consultants, China From "Watching TV" to "Using AV" Converging Services – Converging Regulations ?
Bonnie Peng, Chairperson, National Communications Commission -NCC-, Taiwan Bridging the Digital Divide in Rural Taiwan
Jacquelynn Ruff , Vice President, International Public Policy & Regulatory Affairs, Verizon, USA Regulation & Net Neutrality
Gérald Santucci , Head of Unit "Enterprise Networking and RFID", DG INFSO & Media, European Commission Internet Governance
Theresa Swinehart , Vice President Global and Strategic Partnerships, Internet Corporation for Assigned Names –ICANN-, USA Telecom and Internet Regulatory Challenges and Opportunities – Names, Numbers, Internet Governance
DAY 2 TUESDAY 20 OCTOBER 2009
Morning Sessions
OPENING SESSION 8:45 am – 10:00 am
Chair : Olin Wethington, President Wethington International, USA
Keynote Speeches
Doina Banciu , General Director, National Institute for Research and Development in Informatics -ICI- ; Professor at the University of Bucharest, Romania Digital Culture and Informing the Citizen – First Step in Re-shaping the Economy – e-Romania Concept
Mark Cleverley, Director for Strategy, Global Government Industry, IBM, USA
Gyorgy Csepeli , Public Policy Director, Secretariat of the Commissioner of Infocommunications, Prime Minister's Office, Hungary ICT and Recovery:The Digital Public Utility
John Keogh , Senior General Counsel, Canadian Radio-Television and Telecommunications Commission -CRTC-, Canada
Sebastián Muriel , General Manager of the Public Corporate Company, Red.es, Spain Plan Avanza, ICT & the Future of the Internet
Najat Rochdi, Deputy Director Geneva Office, United Nations Development Programme –UNDP-
SESSION 6 10:00 am – 12:00 pm
DIGITAL CONTENT & THE MEDIA OF THE FUTURE
Chair : George Makowski , Chief Commercial Officer, Business Segment, Romtelecom, Romania
Moderator : Jay Gillette , Professor, Center for Information and Communication Sciences, Ball State University ; Advisory Council Pacific Telecommunications Council, USA Infrastructure 2.0
Said Al Adawi , Director General of Higher Education Admission, Ministry of Higher Education, Sultanate of Oman Technology Impacts in Facilitating Applicants Admission in Higher Education Institutions in the Sultanate of Oman
William S. Coats , Intellectual Property Partner, White & Case LLP, USA Digital Content and the Media of the Future
Ana-Maria David, Special Projects Coordinator HotNews.ro, Romania Presentation
Thomas Hart , EU-China Media and Communications Policy Advisor, Hart-Consult ; Associate, GOPA Consultants, China Regulatory Challenges for Virtual Worlds
Eric Legale, Managing Director, Issy Media, City of Issy-les-Moulineaux, France Managing Public Information in the Digital Age
Hervé Rannou , President, Items International, France Convergence
Luis Rodriguez-Rosello , Head of Unit. « Networked Media Systems », Directorate General INFSO & Media, European Commission Networks and Media : Trends and Prospects in EU Research
Alfredo M. Ronchi , EC Medici Framework, Politecnico di Milano, Italy Content Formats Media
; From paperback to paperless (again ?)
Sarah Xiaohua Zhao , Legal Counsel, Coan & Lyons, USA China New Rules : Three Networks Convergence
SESSION 7 10:00 am – 12:00 pm
MOBILE BROADBAND WIRELESS ACCESS CONNECTING ALL EU CITIZENS AGAINST ECONOMIC DOWNTURN
Chair / Moderator : Catalin Marinescu , President, National Authority for Management and Regulation in Communications of Romania -ANCOM-, Romania
Pablo Brito , Vice Director EU Wireless Marketing, Huawai Technologies Co. Ldt, GermanyEnabling Mobile Broadband for All with Single RAN
Ovidiu Ghiman , Chief Strategy & Business Development Officer, Romtelecom, Romania
Costas Kapetanopoulos, Marketing & Communication Director, Cosmote Romania 100% Broadband Coverage : The Next Challenge
Christoph Legutko , Wireless Standards and Regulations Manager, Intel Corporation, Romania WiMAX : Enabling Mobile Broadband
Ruprecht Niepold, Adviser with Special Responsibility for the Future Development of the Spectrum Policy, DG INFSO & Media, European Commission Wireless Broadband Communications -in Context :—Needs, Initiatives, Opportunities, Challenges -in the Context of Radio Spectrum Policy
Mats Nilsson , Vice President and Head European Affairs Office, Ericsson Mobile Broadband Wireless Access Connecting all EU Citizens Against Economic Downturn
Dorin Odiatiu , Marketing Director, Orange Romania Enablers for Mobile Broadband Wireless Access
Finn Petersen, Deputy Director General National IT and Telecom Agency -NITA-, Denmark Policy Objectives and Lessons Learned
Marian Velicu , Senior Director, Regulatory Legal and Corporate Affairs, Vodafone, Romania Mobile Broadband Wireless Access – Connecting all EU Citizens Against Economic Downturn
SESSION 7LG 10:00 am – 12:00 pm
EUROPEAN PROGRAMS IN THE BENEFIT OF LOCAL AND REGIONAL DEVELOPMENT
Chair : Marius Fecioru , Secretary of State, Ministry of Communications & Information Society, Romania
Moderator : Hellmuth Broda , Information Technology Advisors, Dr. Hellmuth Broda Consulting, Switzerland
Radu Comsa , Counselor to the Ministry of Regional Development and Housing, Romania Regional Operational Program 2007-2013
Margarete Donovang-Kuhlisch , European Government Industry Technical Leader, IBM, Germany Smart e-Government Services for Citizens and Enterprises
Benedikt Klotz, Senior IT Architect, Open Group Certified, Public Industry Solutions Sales Leader, SWG CEE, IBM Central and Eastern Europe Inc., Austria Smarter Cities : How cities can the lead way into a prosperous and sustainable future
Victor Pânzaru , OIPSI Director, Ministry of Communications and Information Society, Romania Information Technology and Communication for private and public sector
Gérald Santucci, Head of Unit "Enterprise Networking and RFID", DG INFSO & Media, European Commission A guide through the 2009-10 Work Programme : Focus on Calls 5 and 6
SESSION 8 12:00 pm – 1:30 pm
THE FUTURE IS GREEN
Chair : Peter Hopton , Managing Director, VeryPC, United-Kingdom GreenIT Technology
Moderator : Dani Flexer , Consultant, Datacentre Optimization, United-Kingdom The Future is Green Conclusion
Sebastian Banica , Senior Director Direct Sales, Omnilogic, Romania Presentation
Lidia Capparelli , Head of the Sustainability Unit, Consip S.p.A., Italy The future is Green
John Frieslaar, CTO for Key Accounts in European Region, Huawai Technologies Co, United Kingdom Using Telecommunications to Reduce Environmental Impact
Loris Di Pietrantonio , Policy Officer – ICT Addressing Societal Challenges ; DG INFSO & Media, European Commission Green Energy
Marius Opran, Member of the Executive Bureau European Economic and Social Committee, Romania Fighting Against Global CO2 Emissions, Including the Contribution of ICT
Varujan Pambuccian , Member of the IT Commission of the Romanian Parliament, Romania
Bruno Pennino , Public Sector, Marketing Executive North East and South West Europe, Global PS Marketing Leadership Team Lead, IBM, Italy A Smarter Planet is Greener
SESSION 9 12:00 pm – 1:30 pm
Economic Growth for Local Governments Through ICT
Chair : Bror Salmelin , Adviser to the Director ICT Addressing Societal Challenges, DG INFSO & Media, European Commission Introduction
Moderator : Dan Iscru , FNTM Lecturer/ e-Learning Project ; Senior Partner, VMB Partners, Romania – Adrian Apolzan , President of the Association for Electronic Payments in Romania -APERO-, Head of Cards ING Bank, Romania
Catalin Cretu , General Manager, Visa Europe, Romania How Payment Systems Help Limit The Shadow Economy in Romania
Dorin Florea , Mayor City of Târgu Mureş ; Vice President of Association Municipalities of Romania European Digital City based on the SVN Concept
Bogdan Găurean , Deputy General Director, National Trade Register Office, Romania The Project online Services Offered by the National Trade Register Office (NTRO) for the Business Community through a dedicated Portal
Valentin Miron , President, VMB Partners S.A., Romania Multi – Year Capital Investment Planning "e-My CIP" : New Solutions for Cities
Hervé Rannou , President Items International, France Local Ecosystem… Beyond the Words
Ionut Taranu , Development Director, Eurado Project, Romania Eurado Public-private online social network
---
DAY 2 TUESDAY 20 OCTOBER 2009
Afternoon Sessions
SESSION 10 2:45 pm – 5:15 pm
Euro-Mediterranean Innovation Network
Chair / Moderator : Pierre Laffitte , President Sophia-Antipolis Foundation ; Honorary Senator named by the French President Nicolas Sarkozy Head of Mission in the Framework of the UPM ( Union for the Mediterranean), France
Zoltan Bendo , Senior Program Manager, Pole Program Office, Hungary Status of the Pole Programme and cluster development in Hungary
Thierry Bièvre , Managing Director Elithis Ingenierie, France The ELITHIS Tower
Timo Haapalehto, Innovation Policy Development Unit, European Commission
Candace Johnson , President, Johnson Paradigm Ventures, France Smarter Governments : Empowering Citizens – Putting the Power into Private Entrepreneurs and Private Investors for Early Stage Innovation and Investment
Jean-Yves Leost , Executive Manager International Affairs, RTE, France The Development of the Euro-Mediterranean Electricity market
Maledh Marrakchi , Advisor to the CEO, Tunisie Telecom, Tunisia Euro-Med Innovation Network : "Tunisian case"
Eunika Mercier-Laurent , President, Global Innovation Strategies, France Virtual Knowledge Space for UFM An amplifier of a sustainable innovation@the speed of thought
Gabriel Mergui , Director, Genopole International, France Sharing tools with Mediterranean Players The example of the EU Project : Bio-CT (European Biotechnologies Common Tools)
Alain Renck , Director of the International, OSEO, France
Chrystel Simone , Engineer Eco-Conception, Centre d'Animation Régional en Matériaux Avancés -Carma-, France An Eco-Design Center in Sophia-Antipolis
SESSION 11 2:45 pm – 5:15 pm
Euro-Mediterranean Innovation Network
Chair / Moderator : Giorgio Prister , President, Major Cities of Europe Major Cities of Europe IT Users Group
Raed Arafat , State Secretary, Ministry of Health, Romania
Mihai Cristian Atanasoaei , Prefect, Bucharest Prefecture, Bucharest City, Romania "Bucharest – Digital Prefecture"E – Government in the citizen's interest
Istvan Besenyei, Country Manager, VAMED, Romania Public Private Partnership A new approach in healthcare
Peter Held , Regional Director Central & Eastern Europe, Proxim Wireless, Germany The Broadband of tomorrow
John Jung , Chairman, Intelligent Community Forum -ICF-, USA Creating an Intelligent City – The Global ICF Experience
Eric Legale , Managing Director, Issy Media, City of Issy-Les-Moulineaux, France Presentation
Odisseas V. Raptis , Chief Executive Officer, e-Trikala, City of Trikala, Greece Innovation and quality cities, servicing the citizens
Kao Hui Chun Sha , Special Assistant General Director Office, Information & Communications Research Lab. -ICL- Industrial Technology Research Institute, Taiwan Collaboration between Government and Industry to Fabric the Blue Ocean of Novel ICT Applications
Christoph Schwegelbauer-Frey , Project Director and International Sales Manager, Siemens IT Solutions and Services, Austria Virtual City Hall – a Smart eGovernment Solution
Alan R. Shark , Executive Director & CEO, Public Technology Institute -PTI- ; Assistant Professor, Rutgers University School of Public Affairs & Administration, USA Technology Leadership : Structures and Skills (How do we get there ?)
Zoltan Somodi , General Manager, Matrix Business Consulting, Former State Secretary in the Ministry of Communications and Information Society, Romania European Funds for Modern Local Government
DOWNLOADS :
---
---
Location : Palace of the Parliament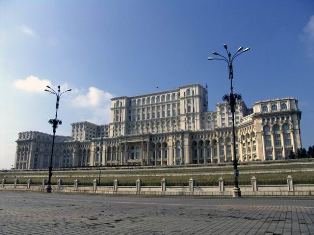 The Palace of the Parliament is an emblematic edifice, placed in the heart of the historical center of Bucharest. It covers a total area of 365,000 square meters, which makes it the second largest building in the world under the Administrative Building Section of the Guinness Book of Records, and the third by volume.
Eclectic in style, it brings together elements of traditional Romanian architecture, where the Brancovenian style prevails, of Romanian popular ornament art (such as the rosette, the symbol of the sun and the typical woodcarving) but also Renaissance, Germanic and Baroque influences.